Arnold Bax: Tintagel
By far Arnold Bax's (1883-1953) most popular work, Tintagel is a symphonic poem that was inspired by Tintagel Castle, which can be found in North Cornwall. Adjacent to the small village of Tintagel, the site is more specifically located on the peninsula of Tintagel Island. This symphonic poem was described by Bax as "only in the broadest sense programme music", however there are parts of the music which reflect the movement of water and the impression of the cliffs and castle of Tintagel. But why did this small area inspire Bax?
In the summer of 1917, Bax and his lover, Harriet Cohen, spent six weeks in Cornwall. They visited many sites that Cornwall has to offer, but when they visited Tintagel castle, Bax was soon inspired to compose a work that was reflective of this impressive peninsula of castle ruins. Bax composed the work between 1917 and 1919, and it was then premiered in Bournemouth in 1921. The work is dedicated to Harriet Cohen.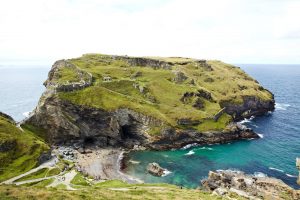 Tintagel Castle, Cornwall. Image Source
As this work is a symphonic poem it is one continual movement, which lasts around 14-15 minutes. The difference between a symphonic poem and a symphony is that a symphonic poem is chiefly intended to inspire listeners to imagine landscapes, images, ideas or moods. Tintagel easily fits this as Bax's main aim is portray the scene of Tintagel castle and some of the history and mythology that is associated with this site.
Bax describes the loose structure for this work and what the listener could interpret from the work on the inside of the score stating:
"The music opens, after a few introductory bars, with a theme given out on the brass which may be taken as representing the ruined castle, now so ancient and weather-worn as almost to seem an emanation of the rock upon which it was built.
This subject is worked to a broad diatonic climax, and is followed by a long melody for strings which may suggest the serene and almost limitless spaces of the ocean. After a while a more restless mood begins to assert itself as though the sea were rising, bringing with a new sense of stress thoughts of many passionate and tragic incidents in the tales of King Arthur and King Mark and others among the men and women of their time.
A wailing chromatic figure is heard and gradually dominates the music until it finally assumes a shape which will recall to mind one of the subjects of the first act of 'Tristan and Isolde…
Soon after this there is a great climax suddenly subsiding, followed by a passage which will perhaps convey the impression of immense waves slowly gathering force until they smash themselves upon the impregnable rocks. The theme of the sea is heard again, and the piece ends as it began: with a picture of the castle still proudly fronting the sun and wind of the centuries."
At the time of composition, Bax had also written a four-stanza versed poem entitled 'Tintagel Castle'. Bax is also remembered for living a dual life, one as the English composer, the other as an 'Irish' poet, with his pseudonym being 'Dermot O'Byrne'. The poem reads as follows:
Tintagel Castle
While these old walls were crumbling,
Fair countless maids and men
Have cried and kissed and whispered,
And never come again.
We two know all their story,
Though all heroic glory
Fall from this old sea-warden,
Slain by a pedant pen.
Though Iseult's arms and bosom
Were shadowy as her shame,
And dusty brains have proven
That Arthur's but a name,
We have a certain toekn
How hearts of old were broken;
And English, Celt or Norman,
Love hurt them still the same.
They stared out even as we do
Across the silken tide,
And sought in sundown splendours
The dream their world denied;
And Dick and Meg have parted
In Cornwall broken-hearted
Ten thousand time, though Tristam
had never sinned or died.
Strain closer yet, my lovely,
Till all your breast's aglow,
Nor think how new sad ages
Will never care to know
If your white body's beauty
Were thrall to Love or Duty,
Or how I burned and hungered
Long centuries ago.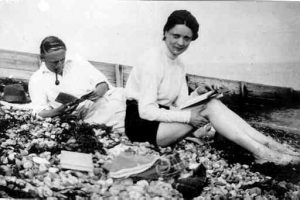 Bax and Cohen in Cornwall, c.1917. Source
It is arguable that Tintagel is overly romantic and charming in places, which could allude to the fact that Bax associated this place with youth and love. Although in one movement, the music can be split into three parts. The first being grandiose and majestic, with it proclaiming two themes. This rich and glorious section is led by the brass, which Bax described as representing Tintagel Castle. The second section is most certainly reflective of the sea, with it being described by one critic as 'the most vivid sea music ever written'. This cantabile section is led by the upper winds and strings, with the melody singing through above a syncopated accompaniment.
Throughout Tintagel, Bax is sure to use and then reuse musical material. Melodies that place an emphasis on triplet movements is a common theme throughout this work. Bax's use of dynamics adds a lot to the overall atmosphere of the work, with it often coming in waves (no pun intended!). The rise and fall of the dynamics gives a somewhat nautical feel to the music and adds to the experience of hearing this work.
In the first section, Bax's orchestration shines through, with shimmering strings supporting the woodwind trills and horn motif. These flecks of sunlight on a summer morning scene at Tintagel Castle is incredibly effective. A grandiose motif from the brass introduce us to the castle itself in all its glory. Along with the shifting of dynamics, the movement of the bass instruments is a keen thing to listen for. This natural movement resonates with the movement of waves, which shows another way Bax tries to make this work programmatic. You could imagine yourself standing in front of the castle looking out to sea in this first section.
The second section takes many of the themes and movements of the previous section, however it is used differently to create different effects. This expansive development of the musical material is quite folk-like, and it can certainly be described as the central 'love theme' of the work. This glorious section leads us into the middle section of the movement, where a distinct change is felt. The dynamics creeps up, as does the orchestration, with this perhaps representing a storm at the castle. As aforementioned, Bax quotes the opening passage of Wagner's Tristan and Isolde, and it is within this tumultuous middle section that this grows into fruition.
The brass introduce swells of the opening theme once more in the final stretch of this work. An exciting climax sees the horns and trumpets proclaim the powerful and bold main 'castle theme', which triggers the final few gusts of waves to bring this wonderful symphonic poem to a triumphant close.
There is a good reason why this work has remained so popular in concert halls in the modern day. I remember first hearing this work live when I went to see The Hallé Orchestra in Manchester, and I was genuinely blown away by the how stunningly glorious Tintagel really is. It's a must hear!
Happy Reading!