Julia Gomelskaya: Memento Vitae
Context
Julia Gomelskaya was born on March 11, 1964 in Ukraine. At a young age she began engaging in music and this carried through to her later years where she began studying composition at the Simpheropol Tchaikovsky Musical College (1983). Also a talented pianist, Gomelskaya studied under Oleksandr Krasotov. After graduating from the Tchaikovsky Musical College, Gomelskaya went on to study composition at the Ukraine Odessa National A.V. Nezhdanova Music Academy (1990). She received a distinction for her degree and she won the first prize at the Ukrainian National Composers' competition (1993). Gomelskaya also won third prize at the Women Composers' Competition (Kiev, 1995) and the first prize at the International Composition Contest of Comines (2003).
In 1995, Gomelskaya was awarded a fellowship for postgraduate study at London's prestigious Guildhall School of Music and Drama. Here she received an MMus in Composition with distinction. Whilst at GSDM, Gomelskaya won six composition competitions, and consequently two of her works have since been published by GSDM and are a compulsory element of the audition process. As well as her MMus, Gomelskaya also earned her PhD in Music Art. She has traveled around the world to be a part of small and large music festivals and her works have been recorded extensively around the world. BBC Radio 3 have recorded her chamber opera, The Divine Sarah and also the ballet music for, Jane Eyre.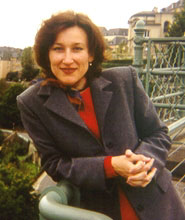 Her works cover a wind-range of styles including symphonic, chamber, ballet, opera, vocal and electronic music. Some examples of her compositions include:
In Modo Sketch (for Cello and Piano) – 1992
N-Quartet (for String Quartet) – 1995
Flute Vers-Inversions (for Flute and Tape) – 1996
Rhythmus (for Double Bass and Piano) – 2005
Trace of Trumpet (for Trumpet and Piano) – 2007
Major-Major (for Brass Quintet) – 2012
She has produced many CDs of her own music and her published works are mainly by Sorino Esiziuns Musicales. She is a member of the Ukrainian National Composers' Union as well as the Laureate of the B. Liatoshynskyj Prize and the Odessa Municipal Prize (2011 & 2006). Gomelskaya has had an array of commissions throughout her career which has allowed her to work with some professional musicians and ensembles.
The Music
Memento Vitae was composed in 1996, and is composed written for a small-scale symphony orchestra. The work encapsulates the idea of spiritual movement, and where our souls go after death. At about 9 minutes in duration, this work is a constant flurry of sounds from within the orchestra, with Gomelskaya utilizing all areas of the ensemble as well as some extended techniques that these instruments can do. For example, pitch bending and flutter-tonguing are among the most popular extended techniques that Gomelskaya uses in Memento Vitae. There is no key, and for me that says that these spirits cannot be chained down by tonality, but instead are free to roam wherever they go. The use of chromatic runs and open chords create this ingenious spatial awareness that I believe Gomelskaya was aiming for when composing this work.
The most exciting parts of this work are the constant changes between very busy sections where lots of instruments play many different rhythmically challenging lines, and then sections where most instruments drop out and only a select few remain. Gomelskaya's use of tuned percussion makes these quieter sections much more atmospheric, as the vibraphone and tubular bells create a shimmering effect within the music. The choice to confine this music to a smaller orchestra means it is much more intense and concentrated in places.
Memento Vitae requires a lot of stamina, concentration, and dexterity to just be able to play the parts in synchronization. Gomelskaya's use of polyphony and counterpoint makes this work very complex and exciting, and yet still being able to create a range of different emotions such as happiness and hope and sadness and loss. The work ends in a very eerie way with static strings and a simple melodic input from the winds before just drifting off. The spiritual undertones of this work can shine a new narrative on the music, and whilst this is my interpretation of the work, I believe it fits the music comfortably and offers a fresh and multi-dimensional narrative for the piece.
Memento Vitae is a fantastic orchestral work from the wonderful composer Julia Gomelskaya and after her tragic death in 2016 it is vital we keep her music alive for years to come. This blog is in memory of her.
Happy Reading!
Recommended Recording: