Paul Hindemith: Plöner Musiktag – Morgenmusik
Context
Composed and premiered in 1932, Paul Hindermith's Plöner Musiktag is a set of four works that sets a whole day to music. The four movements are:
Morgenmusik (Morning Music) 
Abendkonzert (Evening Concert)
Each movement represents a different standard of difficulty, plus different instrumentation. Hindemith composed this work for a four-day music programme with pupils at a boarding school in Plön Schleswig-Holstein in June 1932. 
The Music 
The first movement, Morgenmusik, is written for a brass quintet consisting of two trumpets, two trombones (or horns) and a tuba. Hindemith writes in his programme note that this opening movement is "to be played from the top of a tower", this is perhaps due to its premiere which performed at dawn from the top of Plön Castle's tower. 
Morgenmusik consists of three very short movements. Hindemith's idea was to use Morgenmusik as a tribute to the medieval tradition of greeting the sun. 
Movement I – Mӓßig bewegt
The opening movement plays out like a traditional fanfare. With the instruments perfectly layered on top one another the music exudes light and hopefulness. The fanfare theme is then passed between the upper and lower groups of the ensemble, before they unite for a glorious final proclamation.
Movement II – Ruhig
The second movement is slower in tempo, with the opening phrase showing the unity between all five instruments. The parts then begin to intertwine and complement each other, so when they unite again it has a more magical impact for the listener. The top trumpet takes the melody for this movement, however the borderline dissonant harmony comes from the trombone and tuba parts. 
Movement III – Bewegt
Similar to the style of the opening movement, the finale movement is marked Bewegt and is the fastest movement of the three. The instruments separate straight-away to create five unique lines of melodic content. There is a lot of call and response also in this movement, which keeps the theme moving around the ensemble. 
Final Thoughts
Composed as an educational set of works for students in Plön, Hindemith's Morgenmusik starts the set of works off in a bold style. With two outer fanfare-based movements, and a slower more lyrical middle movement, the opening movement certainly greets the sun! 
Seldom performed now, the first ever recording of the whole set of works from Plöner Musiktag was released in 2010. Led by Hans Werner Henze Music School, as well as the local youth orchestra and several children's choirs from Berlin, this was a breakthrough recording. Conductor Jobst Liebrecht led the project, which now opens many doors for audiences and instrumentalists alike as Hindemith's music is kept alive for many years to come.
Ⓒ Alex Burns
Happy Reading!
You might also enjoy… Paul Lovatt-Cooper: Donegal Bay
*This blog is part of the 'German-Speaking Musical Greats Project' 2019-20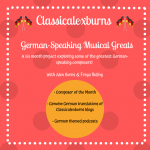 Recommended Recordings: