Paul Hindemith: Trombone Sonata
Context
Throughout his career Hindemith set out to compose at least one sonata for every instrument. His Trombone Sonata was composed in 1941, and is in four short movements. There is an indication that Hindemith initially composed three movements and then added the fourth later on, which shadows the opening movement and brings suitable thematic closure to the work. 
Hindemith fully utilizes both the trombone and piano in this sonata, offering a real challenge for any duo. The strict rhythms and quick changes keeps the performers on their toes throughout, making it a truly exciting work.
The Music
Hindemith is known for creating mutli-movement works, and his Trombone Sonata is no different. The work uses a modified version of conventional sonata-allegro movement form. Hindemith honours many of the traditions of this form however to keep the work entertaining he departs from these rules at times. These changes Hindemith makes become all the more creative against the traditional elements in other parts of the work.
Movement I – Allegro Moderato Maestoso
The opening movement serves as the exposition and start of the development section of the work. The form process is cut short at the end of this opening movement, and then starts again in the second movement. 
Hindemith bases the opening melody on large intervals for the trombone. The piano latches on to the melody and plays a complicated accompaniment that is Romantic in style and keeps Hindemith's quirky harmonic language moving.
Movement II – Allegretto grazioso
The thematic material in this movement is wholly unrelated to that of the first. Essentially, this movement is a theme and variations for the piano. The trombone's role here is to provide an unchanging ritornello that introduces the next new variation on the piano. The atmospheric sound of this movement makes it the most ambiguous of them all.
Movement III – Lied des Raufbolds
Known in English as 'Swashbuckler's Song' the third movement is also melodically isolated from the opening movement. The 'Allegro pesante' marking comes across in the jaunty and light piano movement, with a fast-moving, but heavy sounding trombone on top. The two themes here are dramatically contrasted, the first is heavier, the second more animated.
Movement IV – Allegro Moderato Maestoso
The development of the first movement is started again in this final movement. The highly chromatic musical language that Hindemith uses in this movement ties themes from all movements up effectively. The finale is elaborate in style and the constant proclamations from the trombone with the march-like accompaniment from the piano accentuate this. 
Final Thoughts
Paul Hindemith's Trombone Sonata poses many challenges for both the soloist and the accompaniment. From the constant evolution of sound, melody and structure there is much to enjoy from this colourful sonata.
Ⓒ Alex Burns
Happy Reading!
You might also enjoy… Aaron Copland: Fanfare for the Common Man 
*This blog is part of the 'German-Speaking Musical Greats Project' 2019-20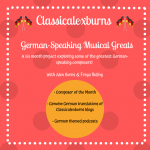 Recommended Recordings: