Hans Zimmer: Supermarine from Dunkirk
Context
Taken from the 2017 film Dunkirk, Supermarine is the fourth track in the original motion picture soundtrack. Zimmer began working on the score in 2016, and due to the importance of the music in the film, he made a demo of the music. Director Christopher Nolan wanted to portray the Dunkirk evacuation of World War II from three perspectives: land, sea and air. He uses little dialogue to create suspense and an intense atmosphere. This means that the cinematography and music are of great importance. 
The Music
Supermarine is an 8 minute orchestral work that immediately grabs your attention through driving themes, bold instrumentation and musical imagery. The fast string playing col legno relentlessly play throughout, which creates tension and drama. The frantic atmosphere is only built upon as Zimmer uses synthesizers and strings to layer textures and create suspense. 
The driving foundation of the work represents the unrelenting pressures of war, and this is represented in the intensity of what's on screen. A short silent break comes out of nowhere, before the driving theme starts once more. The texture is thicker after the short pause, with Zimmer using more layers at a louder dynamic. 
Lower brass are used to create a sense of impending doom with the trombones and tuba in particular being utilised by Zimmer to create this atmosphere. The climax builds and Supermarine comes to an almighty finish. 
Final Thoughts
Zimmer decided not to watch any raw footage whilst composing any of the score to Dunkirk, but he did visit the Los Angeles set to look for inspiration. He took a jar of sand back with him, which he kept on his desk whilst he composed the soundtrack for Dunkirk. It is difficult to pull the music away from the screen for this film due to its importance in the film. However, Zimmer's use of driving themes, synthesizers and textures makes Supermarine a truly epic piece of music.
Ⓒ Alex Burns
Happy Reading!
You might also enjoy… John Williams: Theme from Superman
*This blog is part of the 'German-Speaking Musical Greats Project' 2019-20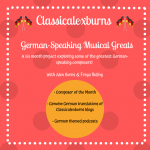 Recommended Recordings: