Hans Zimmer: He's a Pirate
Context
He's a Pirate is one of the most iconic tracks from the 2003 Disney film Pirates of the Carribean: The Curse of the Black Pearl. There is often some confusion around who actually composed the original soundtrack to the first instalment in the Pirates of the Caribbean saga. Hans Zimmer was initially cast as the composer for the film, however after starting the project he handed over to Klaus Badelt due to having too many work commitments. The soundtrack ended up being a collaboration between the two composing giants. 
Both composers are credited for this soundtrack, with Zimmer also being credited as the producer. It's been noted that although Badelt took over the reigns, it was actually Zimmer that composed some of the most famous and iconic tracks for the first film. Zimmer is also known for solely composing films 2-4 in the saga, with Geoff Zanelli composing for the fifth film.
The Music
He's a Pirate first featured in The Curse of the Black Pearl in 2003, where it sprang into commercial fame, which provoked a number of remixes and medleys alike. He's a Pirate is often referred to as the 'sound' of Pirates of the Caribbean.
The track starts off in a bouncy 6/8 time, with the basses kicking off proceedings with a quaver-based theme. The strings enter with the main theme which is jaunty, syncopated and powerfully in unison. Zimmer's use of percussion and brass throughout He's a Pirate adds to the drama of the music. 
The syncopated nature of the music creates tension and is at its most effective when the theme starts to be passed around the orchestra. The percussion in particular take hold of these rhythms between the dialogue that ensues between the rest of the orchestra. The constant loud dynamic of the music emphasises the boldness of the music that Zimmer was trying to create. 
Although dramatic in character, the music is also playful due to its bouncy rhythmic structure. The orchestration of the piece is also interesting as most of the time the orchestra play in unison, however the intricate call and response sections are some of the most interesting of the work. 
Final Thoughts
Although only short in duration, He's a Pirate is now one of the most iconic works throughout all five of the Pirates of the Caribbean films. From the memorable melody to the driving accompaniment, He's a Pirate is certainly a crowd-pleaser!
Ⓒ Alex Burns
Happy Reading!
You might also enjoy… John Williams: Theme from Superman
*This blog is part of the 'German-Speaking Musical Greats Project' 2019-20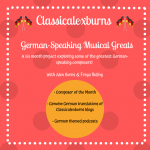 Recommended Recordings: