Johann Strauss II: Die Fledermaus Overture
Context
Operettas became popular in Europe from the 1850s, with the quick theatrical pace and comedic plot lines pleasing audiences for years. The infectious melodies that dominated operettas from this time fitted really well with the waltzes and polkas that Strauss had been pleasing European audiences with for years before.
Composed and premiered in 1874, Johann Strauss II's operetta Die Fledermaus is one of his most popular stage works. The operetta was premiered at the Theater an der Wien in Vienna and has since become a standard in the repertoire. The UK premiere of Die Fledermaus was on 18th December 1876, and was sung in English, with translations and adjustments by Hamilton Clarke. The German original did not premiere in London until 1895. 
Die Fledermaus (The Bat), is full of catchy melodies and lots of excitement making it ideal for an overture. Strauss' music for Die Fledermaus is often commended not only for its quick pace and comical edge, but its clever orchestrations. 
The Music
The overture to Die Fledermaus is structured like the grand overtures that were made popular by composers such as Rossini. The overture does not conform to a classical structure, instead it just previews some of the catchy tunes that will be heard in the operetta. This was a common thing to do for operas, especially Light Operas and operettas. This kind of overture went on to become popular in broadway shows, with the overtures spilling out tune after tune without any real classical structure. 
Die Fledermaus' overture is full of Strauss' popular polkas and waltzes, which paraded out one by one by Strauss. The infectious melodies are catchy and light in style, with them all cleverly interlocking together. The sudden tempo changes foreshadow what will happen in the show later on, giving the audience a taste of what's to come. 
Although full of different tunes, the overture also has a recurring waltz for the strings. This returns throughout the overture, which gives the listener a sense of familiarity within the music. Die Fledemaus centres a lot around drinking alcohol, so the swirling strings aim to reflect some of the main themes of the show. From the fast-paced semiquaver movement, to the quick changes in character in the music, the overture to Die Fledermaus is exciting sets the audience up for a fantastic show.
Final Thoughts
Strauss' overture to Die Fledermaus is one of his most popular orchestral works. Not only does it comprise of a selection of waltzes and polkas, but it also highlights Strauss' incredible orchestration skills. The moral of this fun operetta is…blame it on the champagne!
Ⓒ Alex Burns
Happy Reading!
You might also enjoy… Johann Strauss II: Tritsch-Tratsch-Polka
*This blog is part of the 'German-Speaking Musical Greats Project' 2019-20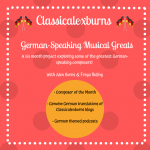 Recommended Recordings: