Ruth Schönthal: Self-Portrait of the Artist as an Older Woman
Context
Ruth Schönthal was a Jewish-American pianist and composer who was of German birth. Schönthal was a remarkable pianist, dedicated pedagogue and keen composer throughout her lifetime, with her taking a professorship at several universities in New York. Schönthal's compositional style culminated in elements of European Romanticism and had strong roots in folk songs. Her style and character has been described as having "boundless enthusiasm for all music that knew no aesthetic boundaries." 
A lot of her contemporaries were veering off towards atonality and serialism, whereas Schönthal stayed firmly in the traditional ideas of Romanticism. She explained her style further:
"I feel a special kinship to the European, especially the German and Viennese musical tradition, and use this as the foundation of my own musical creativity."
Schönthal moved around a lot in her younger life. She was born in Hamburg, but was forced to leave Nazi Germany in 1935 due to her Jewish heritage. She ended up studying in Stockholm at the Royal Academy of Music, however the turmoil in Europe at this time led to more moves for the young musician. Schönthal lived in the USSR, Japan, USA and Mexico. During her time in Mexico City she met Paul Hindemith, and after he heard some of her piano music in concert, he secured her a scholarship at Yale. 
Throughout her career as a composer, Schönthal received a range of commissions for operas, orchestral works, vocal works, chamber pieces and works for solo piano. As an educator, Schönthal had a range of successful students including Stephanie Germanotta, who is more commonly known as Lady Gaga. Schönthal's work are seldom performed today, with only a small selection being recorded.
The Music
Self-Portrait of the Artist as an Older Woman was composed in 1991 and was composed for solo piano. At around 8 minutes in duration, Self-Portrait is a dramatic work that sees Schönthal utilising dynamics and textures to create different atmospheres. Starting with some aggression, the music soon begins to fade away until both hands are twinkling together in a delicate manner. 
The work explores the effects of dissonance and how it resonates between switching piano pedals. Schönthal's use of harmony shines through in this work due to her traditional core Romantic values, which is ever so slightly tinged with 20th century ideals. 
Self-Portrait reaches various climaxes through the more aggressive and loud passages, however this is neatly balanced by the quieter sections. Schönthal's use of silence also speaks volumes in this work as it signifies a sigh of relief between each section. It could also perhaps signify the change in the composer, as she creates this music self-portrait.
Final Thoughts
Overall, Self-Portrait of the Artist as an Older Woman is an intriguing work that shows off Schönthal's experimental use of harmony, dissonance, dynamics and structure. Ruth Schönthal passed away in 2006, and since then some of her works have begun to surface, with some new recordings being released.
Ⓒ Alex Burns
Happy Reading!
You might also enjoy… Joan Trimble: The Green Bough
*This blog is part of the 'German-Speaking Musical Greats Project' 2019-20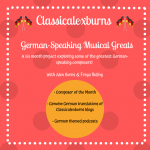 Recommended Recordings: