Ludwig van Beethoven: Symphony No.5
A Snapshot
Context
Composed between 1804-1808, Ludwig van Beethoven's Fifth Symphony is not only one of his most famous works, but it's also one of the most well-known works in the Western Classical Music canon. The Fifth Symphony premiered on 22nd December 1808 in an epic all-Beethoven premiere concert. Consisting of eight new works by Beethoven, the Fifth Symphony was sixth in the list to be performed. The rather neutral response from the audience seems to stem from the length of the concert, rather than the piece itself. 
The Music
The symphony is set into four movements, and typically takes between 30-40 minutes to perform. 
Movement I – Allegro con brio
By far the most famous movement of the four, the first movement opens with the iconic 'fate motif'. This phrase is repeated many times throughout this movement, however the opening explosion is the most famous. Set in a traditional sonata form, Beethoven demands the listeners ears from the very beginning. He uses imitation and variations to present the fate motif in different forms. 
Movement II – Andante con moto
Set in Ab major, the lyrical double variation movement shows Beethoven present two different themes. Beethoven's use of the woodwind section highlights his effective use of harmony and rhythm to create a memorable atmosphere. A series of loud chords are played out as the orchestra finally unite as they head into the coda section. The coda is unusually long, with its primary aim to wrap up the double-variation form.
Movement III – Scherzo, Allegro
Consisting of a scherzo and trio, the third movement offers another notable contrast from the previous movement. Unlike quite a few of Beethoven's contemporaries who used the traditional minuet and trio structure, Beethoven chose to utilise the newer form that was emerging. Beethoven's manipulation of the main theme between the scherzo and trio is striking. This movement is most famous for its smooth transition into the final movement, with it often being referred to as one of the best transitions of all time.
Movement IV – Allegro
The triumphant and exciting finale movement bursts into action in the key of C major. Beethoven brings all the themes together which unite for the epic finale that sees an extremely long coda section play out. The music begins to be compressed, which leads to the last 29 bars hammering out C major chords, all played very loudly. This builds extreme tension for the end of this huge symphony. 
Final Thoughts
Beethoven's epic Fifth Symphony has become one of the most famous symphonies ever written. From the opening few bars of the first movement the listener is taken on a tumultuous journey, which comes to its almighty climax at the end of the finale movement. 
Ⓒ Alex Burns
Happy Reading!
You might also enjoy… Johannes Brahms: Symphony No.1
*This blog is part of the German Speaking Musical Greats Project 2019/20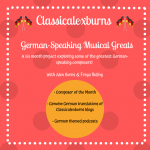 Recommended Recordings: