Ellen Taaffe Zwilich: Peanuts® Gallery
Context
After becoming friends with the cartoonist and creator of the Peanuts comic, Charles M. Schultz,  Ellen Taaffe Zwilich composed her piano concerto Peanuts® Gallery as part of a commission from the Orpheus Chamber Orchestra. This unlikely friendship started after Zwilich found a Peanuts cartoon that mentioned her music in 1990: 
"Peppermint Patty and Marcie are at a concert and Marcie says that the next piece is a flute concerto by Ellen Zwilich, who just so happens to be a woman. In the final frame, Peppermint Patty, standing on her chair, calls out' GOOD GOING ELLEN! Imagine how I felt when I saw this!"
Set into six movements that showcase the different personalities of Schultz's beloved comic strip characters. Zwilich dedicated the work to Schultz saying "in hope that it will give him a small measure of the pleasure that his Peanuts characters have given all of us."
The Music
Movement I – Schroeder's Beethoven Fantasy
"Schroeder's Beethoven Fantasy is based on a few bars of a piece you play on your toy piano (Beethoven's Hammerklavier Sonata). Since you love Beethoven so much, I imagine you improvising and creating a new piece (a fantasy) on Beethoven's music."
The opening fantasy movement is based on the stylings on Beethoven, with a grandiose unison opening and a strong tonal centre. Based on the characteristics and a particular scene featuring Schroeder, this opening movement conveys Schroeder's infatuation with Beethoven. 
The grand piano entrance perhaps speaks more Romantic in style than Beethoven, however Zwilich's idea of hearing Schroeder improvising the style of Beethoven certainly fits the bill here. The call and response segments between the soloist and orchestra create an interesting interplay which is developed through this short movement.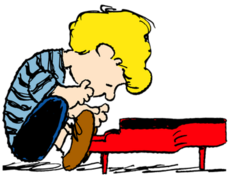 Schroeder
Movement II – Lullaby for Linus
"It seems that naptime is never far from your mind, or ,at least, that you're always prepared with your blanket, so here's Lullaby for Linus, just for you."
Based on the character Linus van Pelt, Zwilich's Lullaby for Linus reflects the age of the character, as well as his sleeping schedule. The soft lullaby is led by a sweet flute solo, which adds the delicate touch to the melody. Linus is known to be wise for his age, although just a child. Thus Zwilich's music reflects Linus' sleepy nature, rather than his age, and her more mature take on the music reflects this. Her use of soft strings accompanying a selection of woodwind soloists whilst slowly getting slower as sleep approaches makes this movement a very effective one.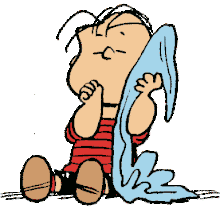 Linus van Pelt
Movement III – Snoopy Does the Samba
"I think you're really cool, and I know you like to dance, so get your paws in gear for a hot-blooded Brazilian whirl in Snoopy Does the Samba."
The Latin flair is initiated by the percussion, who lead the orchestra into a celebratory samba movement. Perhaps the most fun and carefree movement of the whole suite, the infectious melodies will surely get your toes tapping. The piano showcases the melody and then the orchestra then follow suit. Based around Snoopy's love for dance, this bright and driven movement is the perfect central piece of the suite.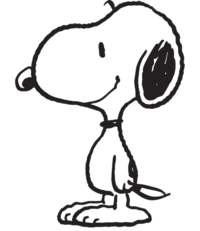 Snoopy
Movement IV – Charlie Brown's Lament
"For all those times when life causes you to cry GOOD GRIEF! A rather wistful, but not terribly sad."
Known by some as a 'lovable loser', Charlie Brown is the principal character from the Peanuts comics. Zwilich decides to make his movement a lament, which is perhaps unexpected. The piano takes more of a backseat in this movement, with the orchestra taking the reigns with the score. The soloists that Zwilich uses in the orchestra create rich textures that all have a tinge of sadness to them. The piano becomes more apparent near the end of the movement, but not enough before the movement is cut to a halt.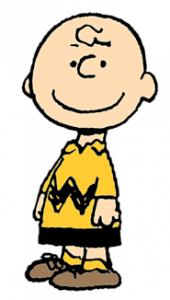 Charlie Brown
Movement V – Lucy Freaks Out
"For you Lucille, who can go from perfectly calm to absolutely wild in a single cartoon frame."
The ominous opening that starts with a solo violin is soon turned into a dramatic orchestral swell as Lucille van Pelt begins to lose her composure. Zwilicht shows Lucille's quick mood changes by applying this to the music. At one point the music is chaotic and boisterous, and within a bar it has changed back to a slow and lyrical section. These quick changes are startling and perfectly encapsulate Lucille's character.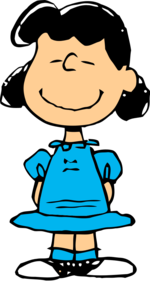 Lucille van Pelt
Movement VI – Peppermint Patty and Marcie Lead the Parade
"With thanks for encouraging me in my work (Good Going Ellen!), and because you're such good campers."
The final movement, based on the characters of Peppermint Patty and Marcie as they lead the parade through the final movement. The school-band type of arrangement with the snare drum and the wind start this movement. The piano plays with the melody as they fight for it with the orchestra. This cheeky ditty of a last movement encapsulates everything that Peanuts is about – fun, witty, carefree and comedic.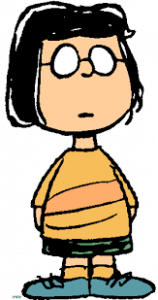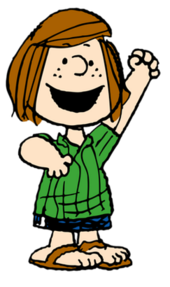 Peppermint Patty  & Marcie                                                                                                                                     
Ⓒ Alex Burns
Happy Reading!
Image Source Oliver Morris 2011
You might also enjoy… Dana Suesse: Concerto in Three Rhythms
Recommended Recordings: