Joan Tower: Fanfare for the Uncommon Woman
Context
Joan Tower was born in New Rochelle, New York in 1938. When Tower was nine, her family moved to Bolivia, which she describes as an integral part of her compositional style. Upon her father's insistence, she learnt the piano and had consistent musical training. Her father was a mineralogist, and you can see parts of their relationship in works such as Black Topaz and Silver Ladders. In the early 1960s, she moved back to the USA to study music at Bennington College, Vermont and then at Columbia University, where she studied composition under Jack Beeson, Otto Luening and Vladimir Ussachevsky. She was awarded her doctorate in composition in 1968.
A year later Tower, alongside Joel Lester and Patricia Spencer, founded the New York-based chamber group 'Da Capo Chamber Players', where Tower was the pianist. Whilst working in this group, Tower wrote a number of successful works including Platinum Spirals and my particular favourite, Wings. She left the group in 1984 after the immediate success of her first large orchestral work, Sequoia (1981). Tower was also offered a place at Bard College in composition, a post she holds to this day.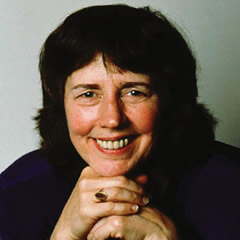 In 1990, Tower became the first woman to win the Grawemeyer Award for Music for her composition, Silver Ladders. She became composer in residence for the Orchestra of St. Luke's, where she later won the prestigious Alfred I. DuPont Award for Distinguished American Composer. Tower has gone on to win a wealth of awards for her services within composition.
Tower has worked with a wide range of different ensembles, from large orchestras to percussion quintets. In 2008, her composition Made in America won three Grammy Awards for Best Orchestral Performance, Best Classical Album and Best Classical Contemporary Composition. Today, Tower still holds her Professor of Music chair at Bard College.
The Music
Fanfare for the Uncommon Woman is a set of fanfares in 5 parts composed between 1987 and 1997. The first Fanfare for the Uncommon Woman was composed in 1986, and was further premiered in 1987 with the Houston Symphony Orchestra, conducted by Hans Vonk. This fanfare is also dedicated to the female conductor, Marin Alsop. As the title suggests, Fanfare for the Uncommon Woman was originally inspired by Aaron Copland's Fanfare for the Common Man. Tower uses the same instrumentation (the whole brass section and percussion), whilst also adding extra percussion, such as marimba, glockenspiel, chimes and drums.
Fanfare for the Uncommon Woman is a tribute to "women who take risks and are adventurous." Some have even described Tower's work as "a feminist answer to Copland." Both works are bold, colourful and vibrant, and most importantly they are both all-involving.
The fanfare starts with the same percussive strikes as Copland's, but the first brass themes heard are much more embellished and fast-paced. The work is additive, which means instruments are layered in, which makes this work very polyphonic (differently to Copland, whose work is homophonic).
The start is bold and strong, which represents Tower's first 'brave woman'. The flourish of sound that happens at the beginning of the fanfare is exciting and perfectly sets the scene. The lower brass then play a new motif, which is shadowed by the tuba. The horns then play a vibrant theme which is free and reflects Tower's unafraid musical voice. The initial themes are repeated and the work builds to a climax.  The extensive use of percussion is also a highlight as it brings this vibrant work to life. The snare drum and timpani at the end bring the drive at the end of the piece. This fanfare is absolutely bursting with energy and character and is a fantastic opening work for the set of five pieces in Fanfare for the Uncommon Woman. 
Final Thoughts
Joan Tower has been described as one of the most successful female composers of her time, with Fanfare for the Uncommon Woman being one of her most famous and well-loved works. On face-value it seems that Tower's set of fanfares is a somewhat feminist blast against Copland's Fanfare for the Common Man, however, upon further inspection it seems that Tower was trying to 'even the balance' by proclaiming that music is genderless.
Ⓒ Alex Burns
Happy Reading!
You might also enjoy… Aaron Copland: Fanfare for the Common Man
Recommended Recording: