Ola Gjeilo: Ubi Caritas
Context
Ola Gjeilo was born in 1978, in Sandvika, Norway. From an early age he was exposed to a range of different genres of music, but he took a special liking to both jazz and classical choral music. Gjeilo began playing piano, and gravitated towards jazz improvisation. Gjeilo mainly learned music by ear, but did learn how to read music from age 7. His keen ear enabled him to be experimental in his compositional style from a young age.
After high school, Gjeilo received lessons from composer and pianist, Wolfgang Plagge, which then lead him to receive formal composition education at the Royal College of Music in London. After this, Gjeilo then moved to New York to study composition at the prestigious Julliard School, where he graduated in 2006. Gjeilo's wide breadth of styles and his formal training all feed into his ever-developing choral style of composing, which is what he is perhaps most well-known for now.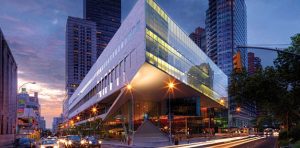 Julliard School, New York City, where Gjeilo studied composition
It is said that Gjeilo's earlier choral music was a lot more conventional in terms of the classical style it often resembled. Ubi Caritas is an interesting work as it is an impressive work for a choir to perform well, however, it is still accessible for ensembles ranging in experience and standards. Ubi Caritas became one of the first breakthrough works for Gjeilo in America, with Randall Stroope commenting that:
"It is a beautiful, lyrical piece, with very attractive harmonic colours."
Gjeilo's style is still being found to this day. His use of improvisation, jazz and classical conventions amalgamate to create some truly stunning pieces of music. Gjeilo talks at length about 'finding your music voice', and how it is a common barrier for composers:
"I think it is real easy to get caught up in external factors and questioning oneself. What does my teacher want me to do? What are others expecting from me? Is my music modern enough? Is it too pretty? Is it too cerebral? We get caught up in these things and distracted from the core question – what is it that I really love?"
This should be the benchmark of all that we composers are looking for. It is so important in music. If we don't enjoy our own music – audiences won't either. So, this is the principle I work with now. I started to write more music that reflected what I listen to. It made me happier. I felt a lot less creative doubt, and I just began to enjoy composing in a new way."
The Text
Gjeilo composed Ubi Caritas in 1999, after singing, and being influenced, by Maurice Duruflé's a cappella work for choir with the same name. Gjeilo takes inspiration from the traditional chant that Duruflé also used, but then added his own twist to the text to make it come alive in a different way. Ubi Caritas is entrancing, to say the least, and Gjeilo's use of crunchy harmonies and choral colour are so very effective. The text that is at the centre of the work can be seen below:
Latin Original with English Translation
Ubi caritas et amor, Deus ibi est./Where charity and love are, God is there.
Congregavit nos in unum Christi amor./Christ's love has gathered us into one.
Exultemus, et in ipso iucundemur./Let us rejoice and be pleased in Him.
Timeamus, et amemus Deum vivum./Let us fear, and let us love the living God.
Et ex corde diligamus nos sincero./And may we love each other with a sincere heart.
As one of his most performed and popular works to date, Ubi Caritas was originally scored for SATB choir, but in its developments there are now Men's TTBB and Women's SSAA arrangements. The work is dedicated to Lone Larsen, who was the conductor of the Swedish choir, Voces Nordicae, who performed the American premiere of Ubi Caritas in 2007.
The text, which is related to the Eucharist, is widely known as the antiphon for the first communion, and the washing of the feet from the Mass for Maundy Thursday. Gjeilo states that the work is comprised entirely of original material, but the music is very reflective of Gregorian chant tradition, which in turn "pays homage to the text's ancient history."
The Music
Opening with a flowing soprano solo, and then closing with an alto solo, Gjeilo immediately showcases his ear for colour and timbre in the different voice types. The opening chant is then concluded by the soprano and alto lines coming together, solidifying the F# minor key.
The opening chant is then presented again, but this time with all SATB in unison. Instead of concluding the phrase, Gjeilo instead provides a harmonic shift, which provides some welcome dissonance into the work. The middle section begins following a neat modulation to A major. Gjeilo creates a more jubilant atmosphere here, which can be heard through luscious harmony, accelerating tempos, and ever-expressive dynamics.
Throughout the work, to create effective dynamics, Gjeilo writes delayed resolutions, which conclude phrases just that little bit after you're expecting it to. A modulation to B major is heard at the end of this middle section, which comes when the choir are singing the final line of text.
The final section of Ubi Caritas begins at a delicate p dynamic. Similar to the opening section, the soprano voice carries the initial melodic line. However, instead of the voices being in unison here, they are in full SATB harmony, which is absolutely glorious. To support the movement and stresses in the text, Gjeilo writes phrase cadences, complex harmonic progressions, and meter changes to emulate the opening section, whilst also developing the text.
The concluding 'Amen' is perhaps the most impressive part of the work. Gjeilo cleverly changes meter twice before completing the work, to prolong the tension in the final cadence. Whilst the alto voice sustains an F# (tonic), the tenor and bass voices descend in step-wise motion, with the soprano voices ascending in the same manner.
In the last two bars, the bass and soprano land on the tonic and dominant of F# minor. Differently, the alto and tenor provide the concluding delayed resolution, with them eventually landing on the third and dominant of the F# minor chord. A delayed, but worth the wait 'Amen'!
Final Thoughts
Ubi Caritas is full of clever choral writing, complex harmonic progressions, which all offer a creative and effective use of this traditional Latin text.
Ⓒ Alex Burns
Happy Reading!
You might also enjoy… Eric Whitacre: Sleep
Recommended Recordings: