Patrick Hawes: Fair Albion
Context
English composer Patrick Hawes is one of the countries leading composers. Having worked with some of the finest musicians, orchestras, conductors, record labels and radio stations, Hawes is a tour de force within English classical music. He held the position of Composer in Residence with Classic FM between 2006/7, and has since released a number of albums full of original works for orchestra, chamber groups, soloists and choirs. His music often reflects that of English pastoral, and his 2009 collaborative album 'Fair Albion', with cellist Julian Lloyd Webber and soprano Elin Manahan Thomas, is no exception to this. One of the most popular works on this album is the title piece Fair Albion, which this blog shall explore in more depth.
The Music
Hawes writes this in the album sleeve of the CD:
"The inspiration for my music stems from three essential areas – my Creator, my loved ones, and my country.  Being English opens the door to a wonderfully rich heritage, a fascinating history, beautiful architecture and stunning landscapes and seascapes.  Furthermore, I am instilled with a sense of pride and patriotism which resonates from our forefathers and their efforts to defend our island and the precepts which have made it 'great'.  It is difficult to analyse those features which have given rise to Englishness in the styles of our great composers – Purcell, Walton, Elgar and Vaughan Williams for instance. It certainly has something to do with a sense of majesty and a striving for things spiritual and noble.  
Our open and honest countryside provides a pastoral inspiration and, just as important, our parishes churches stand tall and proud in every village in the land.  They have been and still long to be the life-blood of our communities and are perhaps underestimated in the influence they have worked on the English spirit.
The pieces on this album are all visions of England in that they either aim to portray a certain building or scene, or else they speak of a more general reverence for the country and its heritage."
Composed for full orchestra, Fair Albion is a homage to the English countryside. Hawes has been able to capture the 'English style' at the heart of this work, with his style reflecting that of Vaughan Williams, Elgar and Butterworth. He describes this work as follows:
"This piece [Fair Albion] conveys a panoramic pastoral scene, particularly inspired by the undulating Wolds of Lincolnshire, the county in which Patrick was born and lived in until his early twenties, and also the peak district of Yorkshire and Derbyshire and the warmth of the people who live there."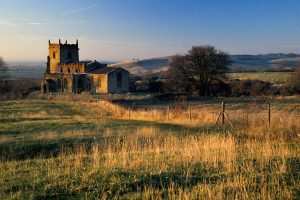 Hawes' utilisation of instruments such as the cor anglais, flute and clarinet offer rich timbres in the melodic lines, with the strings often acting as an accompaniment. The work is inherently warm in atmosphere, with the melodic embellishments from the woodwinds and the harp adding charm and grace to the piece. Hawes' use of the french horn near the beginning of the work acts as an answer to the call of the woodwind, which perhaps is recreating a sunrise over the Wolds of Lincolnshire. The authentic charm threaded throughout Fair Albion emphasises Hawes' love for the English countryside and its heritage and history.
Final Thoughts
Hawes' album 'Fair Albion' is full of English treasures, with each piece representing a different piece of English heritage. The range of instruments and ensembles used shows Hawes' broad compositional style and his true inspiration for his works.
Ⓒ Alex Burns
Happy Reading!
You might also enjoy… Hamish MacCunn: The Land of the Mountain and the Flood
Recommended Recordings: