Tania León: Batá
Context
Born in Havana, Cuba in 1943, Tania León began learning the piano at the young age of four years old. Twenty years on, she had earned her bachelors and master degrees in music from the Carlos Alfredo Peyrellade Conservatory. After this, she made the move to New York and continued her studies there. As well as a composer, León is also known as an advisory to arts organisations and an educator. Her work has been often recognised and in 1998 she was awarded the New York Governor's 'Lifetime Achievement Award'.
In 1969, León became a founding member and first musical director of Arthur Mitchell's Dance Theatre of Harlem (where she established its music school and orchestra). León is a distinguished professor at Brooklyn College, and also guest lectures at Harvard and other prestigious institutes. She has also been a guest conductor at the National Symphony Orchestra of South Africa, and Beethovenhalle Orchestra in Bonn. She has also been composer in residence with a range of different orchestras and ensembles, which has made her catalogue of music grow steadily over the last few decades. León has composed many chamber works, orchestral works, vocal works and operas, which have been recognised worldwide.
The Music
Focusing on the ritual drumming of the Yoruban people of West Africa, Batá, utilises Afro-Cuban percussion and African rhythms. Batá drums are two-headed and have an hourglass shaped body. Throughout Batá, León emphasises the art of improvisation by using Western techniques such as hemiolas, syncopation and irregular phrasings. Texture is also a prominent feature of this work, with timbres being mixed within instruments to create different effects. For instance, the opening of the work sees the piccolo and muted trumpet sound combined creating a piercing and dissonant sound. The work takes around five minutes to perform, and is 167 bars long. It isn't until around half way through that the first clear reference to African rhythm is heard. The cowbell is at the forefront of these African rhythms, which are often presented in 6/8 time.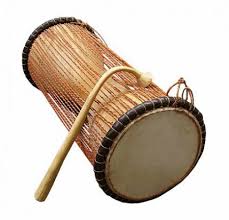 The collection of angular melodies throughout the work gives the impression of very long phrases, which all have unique articulations. Batá highlights León's handling of the orchestra and the rhythmic vitality she writes in this particular work. Each pattern, or section, is heavily decorated with complex rhythmic structures, which offer varying effects to the work. León juxtaposes compound and simple metres to create contrasting subdivisions of notes, resulting in incredibly clever polyphonic writing for orchestra.
Batá is a piece for the world, and it's inclusion of African traditional drumming, as well as León's familiar Cuban twist, makes this work so very intriguing. León had this to say about her musical style:
"I am who I am, thanks to my mestizo heritage and my ancestors from China, Nigeria, France, and Spain. I'm a citizen of the world with a global consciousness, and I do not like to be categorised by race, gender, or nationality. My music is my contribution to mankind. This is my heritage and I'm proud of it."
Ⓒ Alex Burns
Happy Reading!
You might also enjoy… Soweto String Quartet: Sophiatown
Recommended Recordings: