Ruth Schönthal: Sonata, quasi un'improvvisazione
Context
Composed in 1964, Ruth Schönthal's Sonata, quasi un'improvvisazione is one of three one-movement sonatas that she composed. The other two are Sonata Breve (1972) and Sonatensatz (1973). The premiere of this sonata happened at the Delta Omicron 26th Annual WNYC Festival of American Music at the New York Public Library. 
The 1960s proved to be an important artistic month for Schönthal as she began to break away from her influences whilst studying with Paul Hindemith. Her new and modern style was published by Paul Creston, who also championed her newfound musical style.
Schönthal commented that Sonata, quasi un'improvvisazione was her most rhapsodic of her five sonatas for piano, describing it as: 
"Rhapsodic, contrasting concert piece with a kinship to Brahms, but with an individually contemporary approach."
The Music
Translated into 'Sonata, almost an improvisation', the work is perhaps one of Schönthal's most popular works for solo piano. Full of dissonance, dramatic phrasing and atmosphere control, Sonata, quasi un'improvvisazione is an impressive achievement for any performer to tackle. 
Full of frequent tempo changes, pauses and rests, the mysterious atmosphere that Schönthal creates plays into her new style. Many of her other solo instrument works employed similar features, which really solidified Schönthal's style during the 1960s and 1970s. 
The opening triplet sequence is an homage to Brahms' Rhapsody, and this important rhythmic figure is used as a motive throughout the sonata. Schönthal's use of large octave gaps on the piano creates a disconnect between the two hands, so when they unite at the top of the piano at the halfway point of the piece, it creates an even more dramatic effect.
The dynamics of the sonata are also a focal point as the intensely quiet sections build the tension for the explosive loud sections. The long rests add to the atmosphere and tension of the piece, as it leaves the listener gasping for more at every seemingly random stop. The silence speaks louder than most of the piece, with the atmosphere ever-growing throughout. 
After a series of open chords that subtlely become more dissonant, Sonata, quasi un'improvvisazione comes to an intensely quiet close.
Final Thoughts
Ruth Schönthal's Sonata, quasi un'improvvisazione, is bold in character and dramatic in its approach to dissonance, dynamics and atmosphere. Perhaps her most-performed solo piano work today, there's still a long way to go before her works have properly broken into the public domain.
Ⓒ Alex Burns
Happy Reading!
You might also enjoy… Ruth Schönthal: Self-Portrait of the Artist as an Older Woman
*This blog is part of the 'German-Speaking Musical Greats Project' 2019-20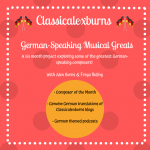 Recommended Recordings: