Ruth Schönthal: Sonata, quasi un'improvvisazione
Der historische Kontext
Sonata, quasi un'improvvisazione wurde 1964 von Ruth Schönthal komponiert. Schönthal komponierte zwei weiteren einsätzigen Sonaten, die Sonate Breve (1972) und Sonatensatz (1973) heißen. Die Erstaufführung fand bei dem 26. jährlichen "Delta Omicron WNYC" Festspiel der amerikanischen Musik in der New York Stadtbücherei statt.
Die Sechziger waren musikalisch sehr wichtig für Schönthal, weil ihre Stilrichtung, während ihr Studium mit Paul Hindemith viel änderte. Ihre neue und moderne Stilrichtung wurde von Paul Creston herausgegeben, der ein Befürworter ihre neue musikalische Stilrichtung war. 
Schöntal schrieb Sonata, quasi un'improvvisazione als rhapsodischer als ihre andere fünf Klaviersonaten. Sie erklärte die als:
"Ein rhapsodisch, kontrastierend Konzert-Stück, die ähnlich zu Brahms ist, aber eine individuelle und moderne Methode verwendete."
"Rhapsodic, contrasting concert piece with a kinship to Brahms, but with an individually contemporary approach."
Die Musik
Die Sonate, die als "Sonate, die fast eine Improvisation" betitelt ist, ist eine von ihren beliebtesten Stücken für Klaviersolo. Sonata, quasi un'improvvisazione, die viele Dissonanz, dramatische Phrasierung und vielfältige Atmosphäre enthält, ist eine eindrucksvoll Aufgabe für der Künstler auseinanderzusetzen. 
Schönthal verwendete häufig Tempus-Änderungen und Pausen, die ihre neue musikalische Stilrichtung repräsentieren, um eine geheimnisvolle Atmosphäre zu schaffen. Schönthal hat sich in den Sechzigern und Siebzigern ihre neue Stilrichtung durch ihren Stücken für Soloinstrumenten gefestigt. 
Die eröffnenden Triole-Sequenz ist eine Huldigung zu der Rhapsodie von Brahms und spielt eine wichtige rhythmische Rolle als Motiv durch die Sonate. Schönthal verwendet eine Lücke zwischen den zwei Händen bezüglich der Stimmlage, die ein Trennen schafft. Als Folge davon gibt es eine dramatische Auswirkung, als die Hände in der Mitte des Stückes vereinen.  
Die Dynamik der Sonate sind einen Schwerpunkt, weil die intensiv leise Teilen zum explosiven lauten Teilen führen. Die langen und unvorhersehbaren Pausen hinzufügen zu der Atmosphäre und Spannung des Stückes. Die Stille ist genauso wichtig in diesem Stück als die Noten.
Nach einer Folge der offenen Akkorde, die geringfügig dissonanter werden, endet Sonata, quasi un'improvvisazione intensiv und still.
Der Schlussgedanke
Sonata, quasi un'improvvisazione von Ruth Schönthal hat eine gewagte Methode zu der Dissonanz, Dynamik und Atmosphäre. Vielleicht ist diese Sonate heutzutage ihr meistgespieltes Klaviersolo-Stück, aber ihre Musikwerke bleiben zum Großteil unbekannt. 
Viel Spaß beim Lesen!
Das könnte Ihnen auch gefallen: Ruth Schönthal: Self-Portrait of the Artist as an Older Woman
*This blog is part of the 'German-Speaking Musical Greats Project' 2019-20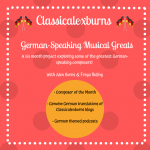 Die empfohlene Aufnahme: